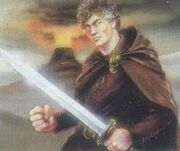 Grey-haired Beretar of the Badlands (T.A. 2927 - Fo.A. 45) was a Ranger of the North often patrolling the lands of Bree. He did not join the Grey Company, probably having been sent on a mission that had made him unavailable. In the Fourth Age the veteran became Prince-Regent of Arnor and Lord Protector of the Shire.
Beretar was the closest male-line relative of Aragorn Elessar, and provisions had been made for him to be Chieftain of the Dunedain in case the succession of the Line of Isildur from father to son was ever broken. His own father, Treharn, had been killed by assassins, which would later be revealed to have been sent on the orders of Saruman.
One of his most dire tasks was to track down and destroy the evil spirit of Malvegil Badlands, his son who had been wounded by a Morgûl Blade on the Pelennor and had turned into an evil spirit who became a source of intimate knowledge of a wave of renegade Orcs and Wargs who struck directly at Ranger outposts in Arnor in the first years of the Fourth Age.