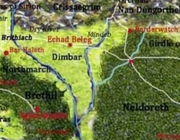 Echad Beleg or Beleg's Watch was a Doriathrin Stronghold in Dimbar.It lay in a gorge of the Dry River of Crissaegrim and guarded the main roadway leading through dimbar, which connected the orc-road through Anach with the ford of Brithiach.
Inhabitants:
Amdír Malgalad Beleg Cúthalion Elmo Galadhon son of Elmo Galathil Mablon the Ilkorin Túrin Turambar
Boromir: "Is it not a strange fate that we should suffer so much fear and doubt for so small a thing? So small a thing!"
- J. R. R. Tolkien, The Fellowship of the Ring II:10
Community content is available under
CC-BY-SA
unless otherwise noted.