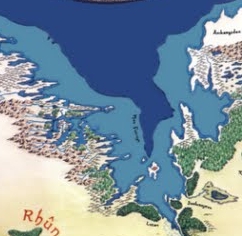 The Bay of Utûm (or Bay of Utumno) was a huge rift in the Far North of Middle-Earth which separated the Forodwaith of Mur Fostisyr from the great Northern Peninsula. It was created by the destruction of Utumno by the Valar. The majority of the pits and vaults of the fell fortress were drowned by this rift, though Demonic energy remained strong here, motivating chaos and pain in very nearby societies, and Orc tribes, particularly Mountain-Orcs, were found here.
Regions
Elthrakh Erezwand Ezrand river Ierkhab Kiebûk lake Ovadûl Oerja river Nekadarja Ulut river Urcheldor
Places of Note:
Garaz-khamil Hithlond Lond Elerion Nenjen Loaj-Kién Mount Utûm Rayomand Shiyras Untumn
Community content is available under
CC-BY-SA
unless otherwise noted.