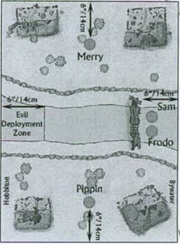 The Battle of Bywater was the last military engagement of the War of the Ring, and the second and last known battle to have been fought in the Shire.
Battle of Bywater

Date

3 November T.A. 3019

Good Factions

Shire

Evil Factions

Ruffians

Good Commanders

Frodo Baggins, Samwise Gamgee, Pippin Guard of the Citadel, Merry Mark Squire, Tolman Cotton, Tom Cotton Jr., Wilcom Cotton II, Bowman (Nick) Cotton, Farmer Maggot, & Paladin Took II

Evil Commanders

Sharkey†, Grima Wormtongue†, Bill Ferny, Squint-Eyed Southerner, Harry Goatleaf, & Long Tom

Good Numbers

500 Hobbits

Evil Numbers

100 Ruffians

Victory

Good
Community content is available under
CC-BY-SA
unless otherwise noted.