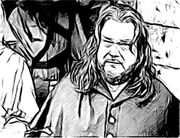 Baranor was a gondorian Man-at-arms from the province of Lossarnach in Gondor. He retired to a small manorial farm in the upper Erui Valley. His sons Beregond and Iorlas followed in his footsteps, serving with the Third Company of the Guard at the Citadel of Minas Tirith.
items:
cowl
leather belt
leather gloves
long tunic
trousers
turnshoes
References
MERP:Lords of Middle-earth Vol II:The Mannish Races
Community content is available under
CC-BY-SA
unless otherwise noted.