Boromir: "Is it not a strange fate that we should suffer so much fear and doubt for so small a thing? So small a thing!"
- J. R. R. Tolkien, The Fellowship of the Ring II:10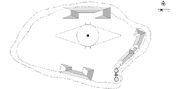 Bar-en-Hendaer (S."Dwelling/House of the Great Eye"; Bl."Ot na Sul Mor"; Ad."Zadan n'Agannâlu"='House of Death-Shadow') was a sanctuary (monastery/seminary) dedicated to Dark Worship, located on Amon Ereb in the Nan Siring, Coldfells, of Rhudaur.
Characters
References
MERP Fan Modules: Valley of the Shadow of Death
Community content is available under
CC-BY-SA
unless otherwise noted.