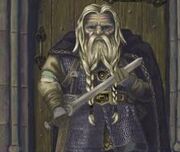 Third son of
Tâlm
,
Bâli
 (ca. SA 1565 -1714) never recovered from envy of his brothers, the High-lord
Rôn
and King
Bân
, who despised their wavering young brother. Untouched by the desire to rule
Rûrîk
, Bâli instead concentrated upon forging strongerand lighter
weapons
, but success eluded him, as did a wife. He died alone at 149 years of age in mid-
Second Age
.
Notes
The Spelling of some Names was altered to move away from pseudo-old Norse Names, which represent the Language of northern Rhovanion and would have been unknown to the eastern Dwarves.
Original forms:
Bain - Bân
Balin - Bâli
Róin - Rôn
Thalin - Tâlin
Ruuriik - Rûrîk
References
MERP:Lords of Middle-earth Vol III: Hobbits, Dwarves, Ents, Orcs & Trolls
Community content is available under
CC-BY-SA
unless otherwise noted.