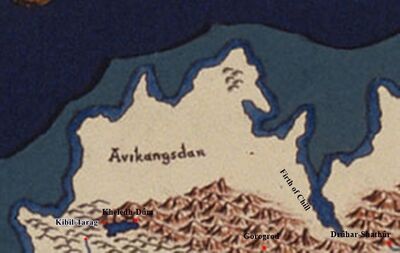 Located along the northwestern flank of the Ered Engrin (S. "Iron Mountains"), Avikangsdar (Mo."Far lands of the very oldest masters") was an extremely cold, tundra-covered region. This bleak, almost uninhabited domain once formed part of eastern Utumno. It was best known for its ferocious winds and bitter winter temperatures.
Regions
Bay of Avikangsdar Bleak Tundra Firth of Chill
Places of Note
Foul Halls Gorogrod Kheledh-Dûm Kibil-Tarag Umlaher Danali
References
Community content is available under
CC-BY-SA
unless otherwise noted.