Boromir: "Is it not a strange fate that we should suffer so much fear and doubt for so small a thing? So small a thing!"
- J. R. R. Tolkien, The Fellowship of the Ring II:10
---
Araw

Araw, or Oromë




Title(s)

The Forester, The Great, Great Rider, Huntsman of the Valar, Lord of Forests

Other name(s)

People

Gender

Male

Sibling(s)

Spouse
Araw or Oromë (S. and Q. for "Horn-blowing", "Trumpeter") is the Vala of the Hunt, husband of Vána and brother of Nessa.
Names
Aldaron (High-Elves)
Althor (Wild elves)
Araume (Wild elves)
Arum (Sindar, Nandor)
Arawanez (Dorwinion)
Arôm or Aróme (Haradwaith)
Arǭmēz, Arômêz (Valarin)
Arum (Mithrimin)
Baumo or Baumya (Old Rhovanian)
Beaming (Angol)
Eremi (Marshmen)
The Forester
Gorom (Wild elves, Easterlings)
Górômê (Avari)
Goru (Wild elves, Easterlimgs)
the Great Bear Spirit (Beiabarnae, Beornings)
Grûm (Wild elves, Easterlings)
Huntena frea (Angol)
Huntinglord
Lord of Forests
Master of the Hunt (Men of the Misty Mountains, Beornings)
Oráw (Wild elves)
Orma (Wild elves, easterlings)
Ormaid (Wild elves, easterlings)
Ormain (Wild elves, easterlings)
Ormaldor (Noldor)
Ormon (Wild elves, easterlings)
Pael (Balchoth)
Ramr (Easterlings, wild elves)
Tauron (Quenya)
Tauros (Noldor)
Tavros (Noldor)
Vadan (Wainriders)
Wadfrea (Angol)
Wealdafrea (Angol)
Gabriel or Azphlas, Khamael, Sandalphon, Jeremiel? (Christians, Jews)
Appearance
Araw usually takes the Fána of a great hunter dressed all in greens with a green beard and a green hood, riding the white horse Nahar and carrying a great spear and a beautiful bow, but Araw may also appear as a tree or in various animal-forms. In ICE's MERP he was depicted with silver as his color association.
Realms
Nature, forests, wilderness, kelvar, wild beasts, the hunt, dogs, kine, horses.
Personality
Servants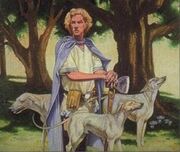 Cults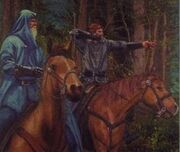 Araw's principal items
Bow of Araw (Coirewehsta)
Belt of Emeralds
Green/Silver Robes
Golden Snare
Knife of the Hunter
Spear of Araw
Sword
Valaróma (The fabled hunting-horn of Oromë)
Powers
See also
References
MERP #8002: Lords of Middle-earth Vol. I - The Immortals: Elves, Maiar, and Valar
MERP: Middle-earth Adventure Guidebook II
Community content is available under
CC-BY-SA
unless otherwise noted.