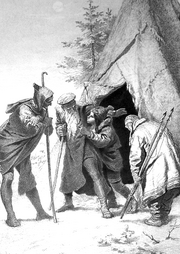 The Anklâ (Mo."Spearmen") were a tribe of Snowmen from the land of Angclax on the northern Peninsula.They ,lived mostly as nomadic hunters and fisherfolk in the rivervalleys and along the coast and were known to be quite warlike, due to their neighborhood to the dangerous Snow-Orcs.
Notes
Original form:Angcla
Community content is available under
CC-BY-SA
unless otherwise noted.