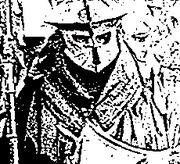 Amdûr the Lord of Blades was a powerful Dragon-Knight and an Easterling leader under Rurzaur during the War of the Ring.
Amdûr had already carved a fearsome reputation in the lands beyond Mordor, and used his brutal skills on the blood-soaked Pelennor against the armies of Gondor. He was a swordsman beyond compare that enemy heroes would have done well to avoid, lest their heads be struck from their bodies before they can raise their own blade to parry him.
Speculations
Amdûr is never actually called a King.More likely than one of the Dragon-Rulers, the Kings of the Golden Army, he was just their highest Warlord or general.
References
Games Workshop - The Lord of the Rings: Strategy Battle Game
Community content is available under
CC-BY-SA
unless otherwise noted.