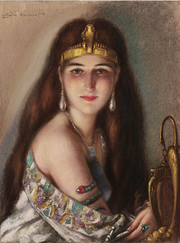 Alcarinë (SA 1145—1532) was the oldest daughter and first child of Tar-Anárion and Merilineth, older sister of Áranis and Tar-Súrion; granddaughter of Tar-Ancalimë. Alcarinë refused the Scepter so that she might pursue a life of historical research; in revenge, Ancalimë refused to allow her granddaughter to marry, until such time as Alcarinë's mother interceded on her behalf. Alcarinë was a mentor of Tar-Telperiën's in the latter's youth, encouraging her grand-niece's love of literature.
Community content is available under
CC-BY-SA
unless otherwise noted.