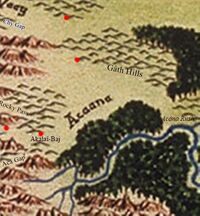 Akhâna (Ib."Great Gift") was a high, grassy plateau situated along the southeastern flank of the Ered Harmal. The Akhâna Rush, a broad, swift river formed its southern boundary. The Gâth Hills formed the region's northern and eastern border. The Akha folk, fierce and independent Ibavin-speaking clansmen herded their goats and horses throughout Akhâna. Most Akha lived a semi-nomadic life, although about a third lived in the villages along the Akhâna Rush on a year-round basis.
Regions
Akha Gap Akhâna Rush Gâth Hills Rocky Pass
Settlements and places of note
Akala-Báy
Notes:
Original form in MERP: Acaana =Akhâna
References
the Wild Lands south and East, Gazetteer by Pete Fenlon
Community content is available under
CC-BY-SA
unless otherwise noted.