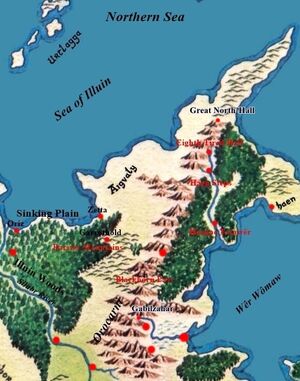 Situated along the northeastern flank of the Orocarni (Q.: "Red Mountains") -along the southern shore of the Sea of Illuin - Aigvalg (D.S.: "Stone Desert") was an very cold, rocky, and windswept land. It was inhabited by scattered bands of Aigar, a Mornârin-speaking people.
Regions:
Barrier Mountains Calsir River Cape of Aigvalg Sinking Plain Tharsitaur
Places of Note:
Blackhorn Pass Garrothold Great North-Hall Malforr Zetta
References:
the Wild Lands south and East, Gazetteer by Pete Fenlon
Community content is available under
CC-BY-SA
unless otherwise noted.