Inhabitants: TA 1650:  Gondorians, Dúnedain; TA 3919:  Rohirrim
Population: 20 
Origin: First used as a refuge by Númenóreans SA 3331
Purpose: Refuge and store house fo the garrison at Ostiras.
A system of extensive caverns in the northern slopes of the White Mountains. An untapped wealth of gems here serves as an emergency financial reserve for Gondor's Kings.
Places of Note: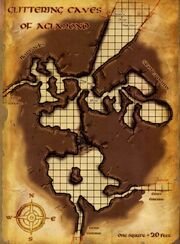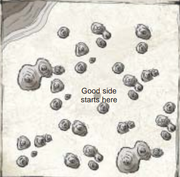 Glittering Caves proper

Central Caves

Central Grotto
Guardroom
Military Caves

Dern-Deeper Quarters
Fastweards Quarters
Master's Office
The Mess

Pens
Refuge Caverns
Store-Rooms

Eastern Grotto
Upper Caves
Western Grotto
The Deep Caves

Endoron's Burial Site
Glittering Tunnels
Helm's Door

The Horn's End
The Hours of the Gap
The Vale's Edge
References
Community content is available under
CC-BY-SA
unless otherwise noted.