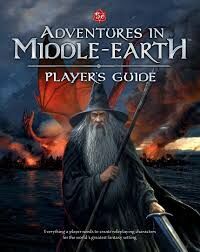 Adventures in Middle-earth is a pen-and-paper role-playing game set in J.R.R. Tolkien's Middle-earth and released by Cubicle 7 under the Open Gaming License. Adventures in Middle-earth uses the Dungeons and Dragons 5th edition game-play system and is a remodeling of the older game The One Ring - Roleplaying in Middle Earth.
Cultures
Classes
Supplements
Bree-Land Region Guide
The Eaves of Mirkwood & Loremaster's Screen
Eriador Adventures
Loremaster's Guide
Mirkwood Campaign
Moria
Player's Guide
Rhovanion Region Guide
Rivendell Region Guide
The Road Goes Ever On
Wilderland Adventures
Community content is available under
CC-BY-SA
unless otherwise noted.