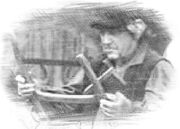 Abbo Twofoot, commonly known as Daddy Twofoot, (though he himself would insist to be called "Mister Twofoot"), was the patriarch of the Twofoot-clan and father of Dodder Twofoot. He was a resident of Bagshot Row no.2, next-door neighbour to Gaffer Gamgee, and a regular patron at the Ivy Bush Inn.
References
Interplay's the Lord of the Rings -Game I
LOTRO:The Shire, Hobbitton
Community content is available under
CC-BY-SA
unless otherwise noted.