Ûiwen (Av."Uiwingê", "Everlasting Foam") was a collection of six (and numerous lesser) large islands located in the Romenëar. They stretched about 400 miles north and 200 miles east of Móak, the easternmost point on the Endorean mainland. They guarded the eastern channels into the Wômaw Sea. Originally an Avari-Realm, later Wômarin-speaking fishermen, the Rûlurk, resided throughout the cold, windy area.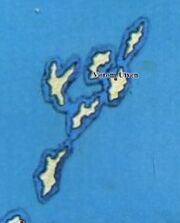 Places of Note:
Ekraw Krawak Ower Saer Vorom Ûiwen Wrakak
Inhabitants:
Hildor:
Quendi:
Notes
Original form in MERP:Uiven
References:
the Wild Lands south and East, Gazetteer by Pete Fenlon
Community content is available under
CC-BY-SA
unless otherwise noted.